On Sale
Innova Heater 61in 6000 Watt 480 volt Double Element Heater Black
Product Description
6,000 watt, 208-480 volt quartz element heater that comes with 6" wall/ceiling brackets. heating range; 11' x 11'. immediate heat source; feel the heat within seconds. energy smart; just pennies per hour to operate. healthy and safe heat source; does not dry the air or consume oxygen.
features:
6" stainless steel mounting kit included
can be wall, ceiling or flush mounted
etl listed
outdoor or indoor use
quartz element
approximate 5,000 hours of use on quartz element
8' to 12' mounting height
0 to 60 mounting angle
approximate 11' x 11' heat coverage
minimal maintenance costs
please note:
this is hardwire only and will not plug into a standard outlet.
voltage of heater must match the voltage of the residence/building or else the unit will not work properly. please consult your electrician prior to ordering.
Description/Detail
Need assistance figuring out if this is the right model for your space? Check out our Innova Buying Guide for expert advice on selecting the proper model based on mounting height and ideal coverage.

Controls:
Innova heaters give you the flexibility of choosing what controls are right for you. Whether you are looking for a simple hi/lo value control or a full diming and zoning option, Innova has a solution for every application big and small.

Hi/Lo Simple Controls
If you are looking for a simple solution, the Innova duplex switches are the way to go. These switches will allow you control each element in the heater on and off independently, ultimately giving you a hi/lo feature.
Featuring a stainless steel cover and single or double gang box that allows it to be installed in-wall.

The

 

dual duplex switch

 

can be used to control each heating element separately for two heaters.

Switches also come in weatherproof options to protect against the elements.





Full Dimming Controls
Looking for complete control over the heat level in your space? Consider the Innova
Electrical Control Cabinet.
Featuring a NEMA 4 rated panel to withstand indoor/outdoor installations. This panel has 0% to 100% dimming capabilities that gives you the ability to control multiple heaters and create zone control. Can also easily integrate with most smart systems such as Lutron, Crestron, Control4 and Leviton Wi-Fi switch.
Contact our Patio Specialist for help ordering the custom panel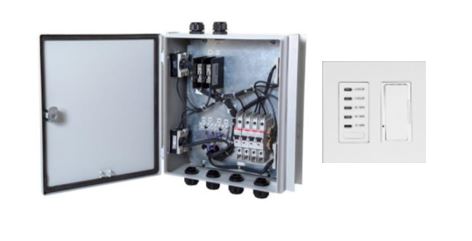 Custom Colors and Fascia Options:
Custom Colors

 

- Innova will powder coat your heater with any color found in the RAL color matching system.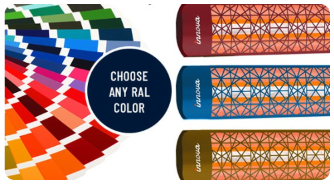 Custom Fascia

 

- Want to really make a statement? Innova allows you to custom engrave the front faceplate of your heater. It is the perfect place to display a company name or logo.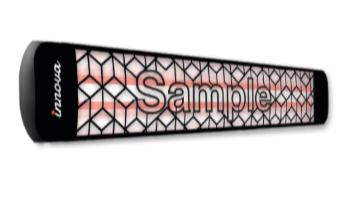 Additional Accessories:
Flush Mount Kits:
Convert any Innova heater into a recessed heater for the added architectural appeal and minimalistic look!

Kits available in black, white, and stainless steel.
For 6,000- Watt heater, order the 61 inch frame.

The flush mount option from Innova Heating Co. is a fan favorite for interior designers, architects and engineers for a seamless and stylish look for any property.